How To Prevent Condensation?
Delivering Property Care Since 1935

Experienced & Qualified, Local Surveyors and Technicians

Property Care Association Awards Winner
Tired of reading? Listen to this article | 5 min.
Condensation in the home is a result of air moisture condensing on cold surfaces. Naturally the winter months are prone to condensation occurring in homes, specifically October through till April. Condensation can lead to damp walls, peeling wallpaper and damage to property fabric. It could also result in the development of mould growth and unpleasant smells. Some people start using damp dehumidifiers to tackle these issues, but it is important to know that humidifiers tackle symptoms and the root cause.
It is important to have adequate heating and ventilation in your property. Fortunately, there are several simple ways how to prevent condensation in your home.
Cooking
Cooking – when you are cooking you should use an extractor fan. If you don't have this function available, then you could open a window. This ventilation reduces the extra build-up of moisture within the home. If for any reason you cannot open your windows for ventilation, then you should ensure window vents are open.
Showering
Showering – you should always use the extractor fan in the bathroom during and after showering. If you have a window in the bathroom then this should be kept open after showering. Plus, the door should be kept closed for as long as possible after showering. This ensures that moisture won't escape to other parts of the house.
Drying Clothes
Drying Clothes – Drying clothes at home is another way that condensation could develop. To avoid this, you should keep clothes drying to within an enclosed room and improve the ventilation. If you have a tumble dryer then it is important to have adequate ventilation to the outside of the building.
Furniture
Furniture – ensure that your furniture is positioned clear of the wall to increase airflow. You should try to leave a gap between your furniture and the walls to allow sufficient airflow which can prevent condensation and mould growth on the wall and furniture.
Heating and Ventilation
As well as working to reduce the amount of moisture created in the home it is important that there is enough ventilation to remove excessive moisture build up and prevent condensation. Your Kitchen and Bathroom should have a working and appropriate mechanical extractor ventilation unit to remove moisture from these areas. It is just as important to ensure that the property is heated properly as less than adequate heating can encourage the moisture in the atmosphere to condense on cold surfaces which may result in the growth of mould on these surfaces.
Why is condensation so common?
Today condensation is a common problem with 1 in 5 properties now affected. In the past, properties typically were not affected by condensation. The reason for this is that older properties tended to be less air tight than newly built properties today. Also, they weren't very well insulated or had poorly fitted doors and windows, they may also have had a working fireplace and chimney which improved ventilation. Although this caused a problem with draughts in the home, it allowed moisture to escape and avoided moisture in the air to build up.
In recent years homeowners have spent money to insulate their homes with double glazing, cavity wall and loft insulation. This is beneficial as it is more energy efficient. However, it generally reduces the ventilation levels and means that moisture in the home cannot escape, resulting in condensation which can lead to problems with mould. Where there are property defects like penetrating or rising damp this can cause cold walls in a property and high moisture in the atmosphere will be attracted to the cold walls which occurs when the wall temperature is below the dew point.
Positive input ventilation
Positive Input Ventilation is a solution for people struggling to prevent condensation problems in their home. It is a small unit which is placed in the loft or on the wall of your home and is ducted through your ceiling or wall into the hallway. This is because the hallway usually is in the centre of the property and has access to the other rooms. The unit has a fan which draws fresh air from outside. The Fresh air is filtered and passes into your home via the unit and duct. This pushes the existing moisture laden air out of the property and replaces it with fresh air received via the positive input ventilation system.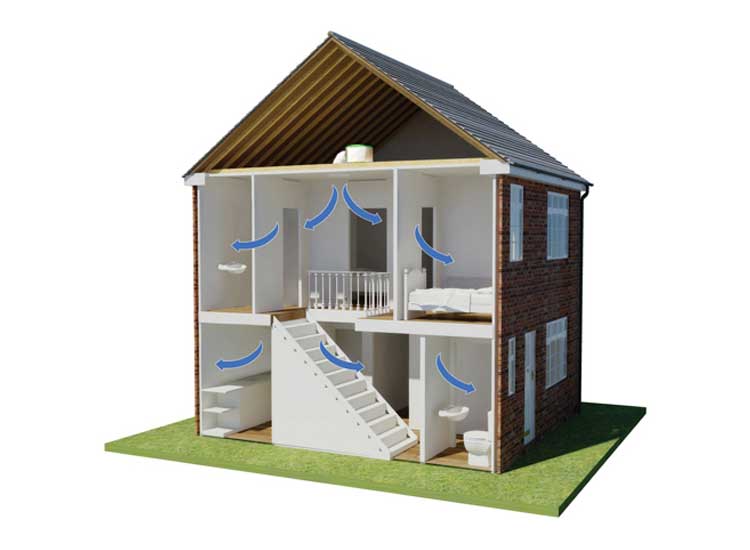 The benefits of positive input ventilation
This condensation solution is cost effective to install and operate. The installation is straight forward and will not disrupt your home as it is inserted into your loft space, attic or in an appropriate room. As well as reducing the level of the air humidity in your property it also removes contaminants from the air such as cleaning chemical smells. Also, you can save on your heating bills as the positive input ventilation system re-circulates the hot air in your rooms that has gathered at ceiling level.
We work in partnership with EnviroVent the largest supplier of Positive Input Ventilation and Extraction Ventilation units in the UK. Please see details below of some of the products that we fit to solve property Condensation problems: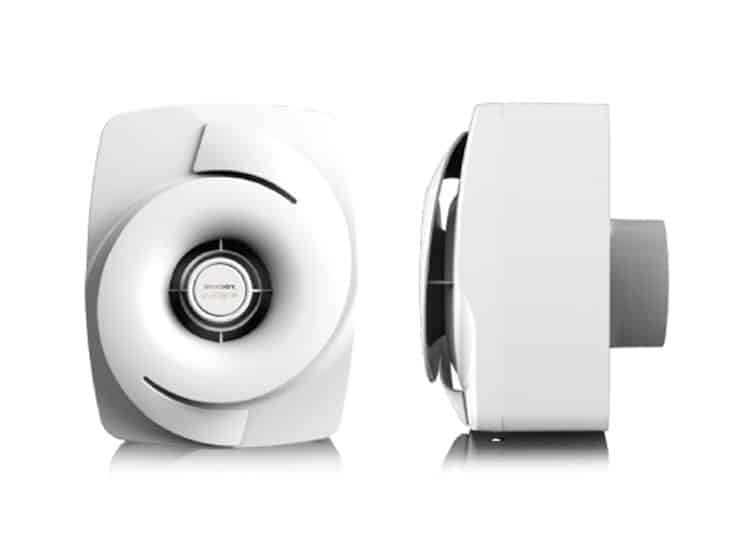 Cyclone 7 – WC, Bathroom and Kitchen extract fan
This high-performance extractor fan reduces humidity levels using low energy consumption. This product comes with a 7-year warranty.
Mr Venty ECO2 Loft
Condensation control and air quality management unit for homes with a loft.
This is a positive pressure ventilation system that comes with a 5-year guarantee.
ATMOS
Condensation control and air quality management unit for homes with a loft.
This is a positive pressure ventilation system that keeps your home air fresh, free of pollutants and comes with a 10-year guarantee.
Mr Venty ECO2 Wall
Energy Efficient Condensation-Control Unit for Flats and Apartments
These systems are placed high on a wall of an appropriate room of the flat. These are useful where a loft area is not accessible.
EnergiVent SR
Intelligent Single Room Heat Recovery (SRHRV) Unit
This product is ideal for bathrooms, kitchens and WC's.
Should you have a Condensation or mould problem then contact your local Richardson & Starling branch and our experienced surveyors will be happy to help.
Property Survey
Our qualified damp surveyor will investigate your property and identify the cause of the condensation. At Richardson and Starling, we only supply experienced surveyors who are highly trained in the types of damp and rot problems that could affect your property. This means that our surveyor will be able to complete the survey and give the appropriate remedial recommendations no matter what problem is identified.
Book a Property Survey
Fill the form below and our local team will be in touch with you shortly.