Brick Waterproofing
Effective Masonry & Brick Waterproofing

Experienced & Qualified, Local Surveyors and Technicians

Property Care Association Awards Winner
There are many causes of masonry and brick penetration, the main one being that it is likely the building material to the external walls has become excessively porous, meaning that it no longer keeps out moisture effectively. Here at Richardson & Starling, we provide a wide range of property damp solutions, one of which is our masonry and brick waterproofing service. Our specialists can cover your property external walls with a transparent water repellent that repels the water trying to penetrate your property and improves property thermal performance.
Masonry & Penetrating Damp
The most common types of masonry wall materials are brick and stone which are bound together with a cement mortar. When rain penetrates through masonry it causes penetrating damp which can affect the building fabric. This happens often in the UK and especially in older buildings with solid walls. The symptoms of penetrating damp can take weeks or months to appear. Some of the most common signs of penetrating damp include:
Render damage
Brick, stone or pointing damage
Plaster damage
Moss growth
Wet or Dry rot
Mould growth
Decoration damage
Any one of these signs could mean that you have a penetrating damp problem. If so, you will need to stop the damp penetrating the external walls. The first thing to do is to inspect the walls and repair any defects. A cost-effective way to stop further damp penetration is to apply our masonry protection cream which is a water repellent system. This acts as a barrier to rain penetration and will protect the masonry.
Brick Waterproofing
When masonry gets wet, it gets cold. All of us living here in the UK, especially the north and west will be aware of how wet it can be – even during summer months. Houses which are situated in areas of heavy rainfall are susceptible to damp and cold conditions. When the walls of your house become wet and cold, heat escapes. If your walls have become porous then without effective repair you are not only leaving yourself open to experiencing penetrating damp, you could also be increasing your energy bills. On average, 35% of all heat loss in a building is through exterior walls. The amount of heat loss varies according to the method of construction and the amount of exposure to weather conditions. However, stopping penetrating damp by implementing a masonry waterproofing system will improve your walls thermal performance.
Brick Waterproofing Cream
At Richardson & Starling, we have used Masonry Protection Cream for many years as a cost-effective way to eliminate penetrating damp. Our masonry waterproofing system is a colourless and breathable water-repellent treatment for brick, stone, render and concrete walls. The cream stops penetrating damp without changing the appearance of the wall. Once applied, it will permeate deeply before curing to form a water-repellent barrier that is effective and has a BBA approval for 20 years.
The masonry protection we use has been scientifically proven to provide significant improvement in the wall thermal performance that can reduce heating bills. The masonry protection cream stops the wall from getting damp and allows any existing damp to dry out. Independent studies have concluded that the owner of a treated property can potentially save on their energy bill.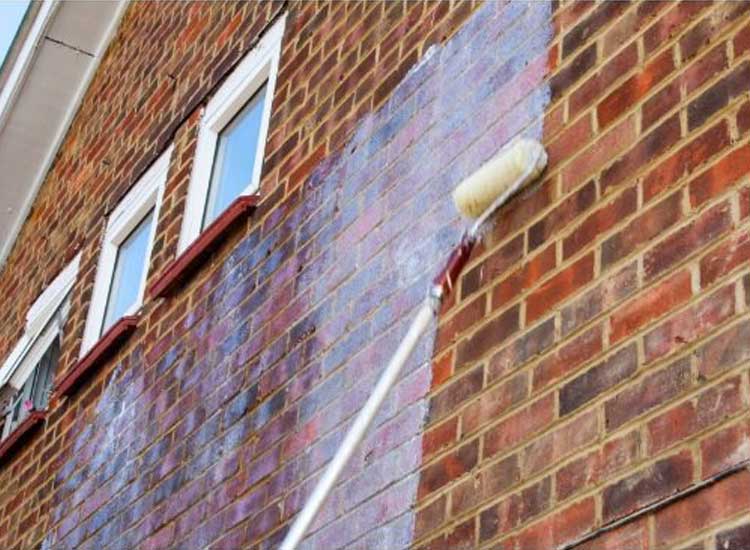 External Wall Surveys
Our qualified damp surveyor will investigate the affected area and measure the scale of the problem. At Richardson and Starling, we only supply experienced surveyors who are trained in damp problems that can affect your property. This means that our surveyor will be able to complete the survey and give the appropriate remedial recommendations no matter what problem is identified.
Book a Property Survey
Fill the form below and our local team will be in touch with you shortly.